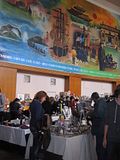 Sunday afternoon I visited for the 1st time the
Treasure Island Flea Market
, which occurs the last weekend of the month. Someone I met at the
SF History Expo
advised me this would be a good weekend to go, as it would be held indoors, in the art deco Building One. I felt a sense of discovery the whole trip, starting with Muni's
108-Treasure Island
line, which takes less than 10 minutes to get from the Temporary Transbay Terminal to the Treasure Island gates. The panoramic view from the bus stop encompasses both bridges.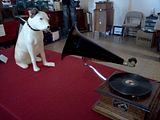 The flea market was crammed into Building One's lobby & a narrow upper floor walkway. I saw lots of kids, so this is obviously a popular family outing. I enjoyed seeing & hearing 2 Victrolas lovingly restored by
Golden State Phonographs
. The woman from
Tami Jo Studios
was eager to share with me how her origami-like photo albums were constructed. I remembered seeing
Korrupt Label
's punk-inspired hoodies at
Roadworks
a couple of years ago, & it was cool to the meet the designer.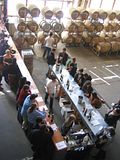 Behind the building were food trucks & a hangar space converted into a huge
wine-tasting room
lined with barrels. The hangar also houses 2 Burning Man-related art studios. A woman in
Marco Cochrane
's studio gave me a demonstration of the 3D pantograph used to enlarge sculptures. The device was a revelation to me.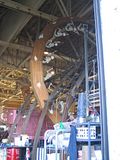 Around the back, I could peek into
Peter Hudson
's studio for a tantalizing glimpse of
Charon
, an enormous 3D zoetrope, which standing still looks like a bunch of skeletons riding a Ferris Wheel. I had no idea any of this was here. The next Treasure Island Flea will be held outdoors the weekend of April 28-29, 2012.