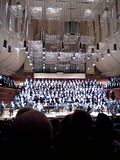 Tuesday night I was at the first of two performances by the
San Francisco Gay Men's Chorus
featuring composer
Stephen Schwartz
. The program included songs from
Godspell
,
Wicked
,
Pippin
& a medley of songs from Disney movies. The 270 member chorus sometimes performed fancy choreography, & there were many short break-out solos. A small band accompanied the chorus, & conductor
Timothy Selig
led with broad gestures. I've never seen any of Mr. Schwartz's musicals, so I did not recognize a single song, which my friend in the chorus thinks is bad.
Mr. Schwartz made a showy entrance, rising to the stage on the pit elevator as he played the piano & sang in French. He sang 4 songs in the 1st half, accompanying himself on the piano. His singing is rough, but he communicates the words clearly. In the 2nd half he accompanied soprano
Melody Moore
in 2 arias from his opera
Séance on a Set Afternoon
. She was so yearning & emotionally engaged that she nearly stopped the show. I was surprised when Mr. Schwartz chose to sing another song himself after her. The chorus then premiered Mr. Schwartz's
Testimony
, which begins with a series of soloists singing self-despairing words from the
It Gets Better
campaign. The piece is quiet & earnest & ends on a hopeful note. Members of the chorus hugged each other at the end, & the performance received a standing ovation. Mr. Schwartz composed
Testimony
specifically for the chorus without accepting a fee. It will be released on
YouTube
on Thursday, so it is a true gift.
The concert's performers also included
The Choral Project
, a well-prepared mixed chorus from San Jose. They sounded crisp in
Kéramos
, an a capella piece written for them by Mr. Schwartz with a text by Longfellow. Their female soloists sang with clarity in "Meadowlark" & "For Good."
The show had a ton of lighting cues & a couple of miscues. The stage was plunged into darkness midway through one of The Choral Project's numbers, & the lights inexplicably came up on the audience during another. In "That's How You Know", the audience cheered when a same-sex marriage tableaux appeared on stage. I liked the simple rendition of "Beautiful City," sung in unison & accompanied only by the piano. Right before the 2nd half, a friend & I waved to our chorister friend but got no reaction. We later learned that he saw us but had been instructed to preserve decorum by not waving back.
§ Enchantingly Wicked, An Evening With Stephen Schwartz
San Francisco Gay Men's Chorus
Dr. Timothy Selig, Artistic Director & Conductor

Music from Godspell:
"Prepare Ye the Way of the Lord"
"Day by Day"
"All For the Best"
"All Good Gifts"
"We Beseech Thee"

"Popular" from Wicked

Schwartz at the Movies:
"Deliver Us" from Prince of Egypt
"God Help the Outcasts" from The Hunchback of Notre Dame
"Colors of the Wind," "Just Around the Riverbend" from Pocahontas
"Through Heaven's Eyes" from the Prince of Egypt

"Meadowlark" from The Baker's Wife
"For Good" from Wicked
Featuring The Choral Project

Selections featuring Stephen Schwartz & Vocal Minority

"When You Believe" from The Prince of Egypt

"The Spark of Creation" from Children of Eden
Kéramos
Featuring The Choral Project

"That's How You Know" from Enchanted

Music from Pippin:
"Corner of the Sky"
"Magic to Do"
"Morning Glow"

Selections featuring Stephen Schwartz, Melody Moore, & The Lollipop Guild

Testimony (World Premiere)

"Beautiful City" from Godspell

"Defying Gravity" from Wicked

Louise M. Davies Symphony Hall
Tuesday, March 20, 2012 — 8 PM