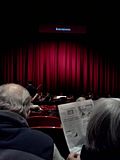 Thursday night I saw the 1st of 2 casts for the
San Francisco Conservatory of Music
's production of
Così fan tutte
. The staging by Heather Mathews emphasized the story's goofiness. Characters often acted like clowns, & the cast did a good job hamming it up. The audience laughed in all the right places.
Maya Kherani
was a sassy Despina, stealing a taste of hot chocolate by sipping directly from the serving pot's spout. Her voice is high & girlish, & she moves quickly. Soprano
Julie Adams
sings secure high notes, & her Fiordiligi does a slapstick suicide routine that deliberately upstages Dorabella's big aria "Smanie implacabili." I liked the big, chesty sound of mezzo
Kate Allen
as Dorabella, & she made me think that Dorabella really is the better mate for Guglielmo. The sisters were hilarious when they sobbed their way through the quintet "Di scrivermi ogni giorno."
As Guglielmo, baritone
Efraín Solís
made funny, wide-eyed expressions when disguised as an Albanian. I liked his hefty, mature-sounding voice. He acted appropriately incensed while singing "Donne mie, la fate a tanti" accusingly at the audience. The voice of tenor
Sergio González
as Ferrando seemed under stress, but he sang everything, even if he was sometimes soft. Bass
Randall Bunnell
looked & sounded youthful as Don Alfonso, & he was an elegant presence.
The action was placed correctly in the 18th century, on a set with mobile doorways, walls & a miniature classical temple. The chorus of 7 performed the scene changes & acted as supers. The final scene takes place at night, against a starry sky.
Cowell Theatre has no pit, so the orchestra was awkwardly splayed out in a narrow band at floor level in front of the stage. Conductor
Giuseppe Finzi
led without a baton, seated at a harpsichord. Tempos were fast, on the verge of rushed. The orchestra, especially the strings, did a good job playing together, despite being spread out.
I felt sorry for the gentleman on one side of me, who spent most of the performance half asleep, his head on his date's shoulder. On my way into the theater, I briefly conversed with a young opera fan who was under the impression that
Nixon in China
is a musical.
§ Così fan tutte
San Francisco Conservatory Opera Theatre
Giuseppe Finzi, conductor
Heather Mathews, director
Don Alfonso: Randall Bunnell, bass
Ferrando: Sergio González, tenor
Guglielmo: Efraín Solís, baritone
Fiordiligi: Julie Adams, soprano
Dorabella: Kate Allen, mezzo-soprano
Despina: Maya Kherani, soprano
Thursday, March 29, 7:30 PM
Cowell Theater at Fort Mason