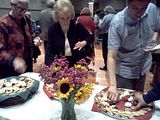 Sunday afternoon the
Morrison Artists Series
at SF State presented the
Parker Quartet
. The quartet's members are young, & their performance was so clean I could have been listening to a CD. They make a sheen sound, & no one voice ever dominates. Their ensemble & intonation in the Debussy String Quartet were very accurate. Violist
Jessica Bodner
played her solo in the 2nd movement with incisiveness & bite. 1st violin
Daniel Chong
played perfect parallel octaves in the final movement. His playing can be virtuosic, & he digs in without sounding rough. The audience applauded after the 1st & 2nd movements & clearly enjoyed the piece's sweeping final bars. In the pause after the 1st movement, a stagehand inexplicably strode on stage, approached the quartet, then ran off.
2nd violin
Karen Kim
introduced the quartet
Ainsi la nuit
by not-dead composer Henri Dutilleux & informed us that it was cellist
Kee-Hyun Kim
's birthday. She explained the piece's structure, & the quartet played excerpts so that we could hear some of the recurring motifs. The work is atonal & features a lot of insect-like sounds. Its mood is mysterious, nocturnal & agitated, & it ends with a shudder. The quartet played complex passages containing pizzicato, ponticello, slides, col legno & very high notes with a straight-forward confidence.
During the intermission, the audience attended a reception with coffee & cookies on the stage of an adjacent hall, & there was a raffle drawing for a set of CDs before the 2nd half. The program ended with Schumann's Quartet No. 3. The bold playing of the 2nd movement's 5th variation stood out. Mr. Kim played a light & floaty cello pizzicato in the Adagio. The unusual encore was
Microlude No. 5
by Kurtág, in a neat performance.
§ Morrison Artists Series
Parker Quartet
Daniel Chong, violin
Karen Kim, violin
Jessica Bodner, viola
Kee-Hyun Kim, cello

Debussy (1862–1918): String Quartet in G, Op. 10 (1893)
Dutilleux (1916–): Ainsi la nuit (1973–76)
Schumann (1810–1856): Quartet in A Major, Op. 41, No. 3 (1842)

Encore:
György Kurtág: Microlude No. 5 for String Quartet, Op 13 (on E)