Roadworks Street Fair
Sunday, September 19, 2010
12-5pm
Rhode Island Street between 16th and 17th Streets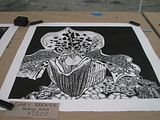 It was drizzly on Sunday morning, so I was doubtful about this outdoor event, but fortunately it did not get rained out. The biggest pain was getting across town on Muni. Because of the
Sunday Streets
closure, 22-Fillmore passengers had to transfer to diesel buses for the Western Addition part of the route. This easily added 20 minutes to the trip, not including another break to change drivers at Bryant.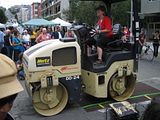 Roadworks
is a fundraiser for the
San Francisco Center for the Book
. The main attraction is the 3 ton steamroller that is used to print linoleum blocks laid in the street. The process requires at least 4 printers, & everyone was so practiced that they moved with ritualistic efficiency. A nearby wall was already full of prints hanging out to dry.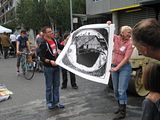 The fair also features displays of print making & book arts & some live entertainment. There was a sizeable crowd. Quite a number of children & dogs attended as well. I enjoyed seeing
Ginger Burrel
again, whose artist's books effortlessly combine content & materials from disparate sources. I also seem to run into animator
Sarah Dungan
a lot. Fortunately I like her whimsical drawing. I was seduced by the morbid & insectoid designs that
Korrupt Label
prints on their t-shirts & hoodies. I totally think Axel would look great in them.