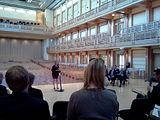 Friday afternoon, the
Green Music Center
at
Sonoma State
announced the
inaugural 2012 season
in the Joan and Sanford I. Weill Hall. Members of the press sat on the stage of the hall for speeches from Chair & major donor
Sanford I. Weill
, Artistic Director
Jeff Langley
, Programming Consultant
Robert Cole
, Sonoma State Professor
Lynne Morrow
& Sonoma State President
Ruben Armiñana
. The inaugural season is star-studded, featuring Lang Lang on
opening night
. The 2 vocal series include Stephanie Blythe, Joyce DiDonato & a rare North American appearance by Elīna Garanča. Yo Yo Ma, Anne-Sophie Mutter & Vadim Repin appear in the instrumental series. The
San Francisco Symphony
will also present 4 programs, & the hall will be the home of the
Santa Rosa Symphony
.
President Armiñana modeled the hall after Tanglewood's Ozawa Hall. Weill Hall seats 1,400, & its gorgeous wooden interior is warm & inviting. The back wall can be opened up unto a terraced lawn to accommodate an outdoor audience. Besides touting the acoustics & the inaugural season's big-name roster, the speakers stressed the hall's use as a musical lab for the university's students. Sonoma State music students supplied short musical breaks. A 15-piece brass band played 2 fanfares from choral balconies at each end of the hall, & we heard a solo piano & a soprano. Even with all the seats empty, the hall was not overly reverberant & echoey. The singer did not have to sing loudly in order for her voice to resonate throughout the space.
Following the presentation, everyone moved to the adjoining
Prelude Restaurant
for sandwiches & a Q&A. The fancy restaurant has a relaxing patio with firepots & a waterfall & already does a brisk business in wedding receptions.
§ 2012/2013 Season at a Glance
Lang Lang, piano
Saturday, September 29, 7:00 p.m.
Alison Krauss & Union Station featuring Jerry Douglas
Sunday, September 30, 7:30 p.m.
Saturday, October 13, 8:00 p.m.
"An All American Celebration" with John Adams & the International Contemporary Ensemble featuring Jeffrey Kahane, piano
Saturday, October 27, 8:00 p.m.
Modigliani Quartet with Joyce Yang, piano
Sunday, October 28, 3:00 p.m.
Stephanie Blythe, mezzo-soprano | We'll Meet Again: The Songs of Kate Smith
Saturday, November 10, 8:00 p.m.
Chucho Valdés and the Afro-Cuban Messengers
Sunday, November 11, 7:00 p.m.
Thursday, November 15, 8:00 p.m.
Joyce DiDonato, mezzo-soprano | Drama Queens
Alan Curtis, conductor | Il Compleso Barocco
Tuesday, November 20, 8:00 p.m.
Tallis Scholars | Love is Better Than Wine
Saturday, December 8, 8:00 p.m.
Philharmonia Baroque Orchestra and Chorale | Handel's Messiah
Masaaki Suzuki, conductor | Bruce Lamott, chorale director | Sherezade Panthaki, soprano | Fabiana González, mezzo-soprano | Dann Coakwell, tenor | Dashon Burton, bass-baritone
Sunday, December 9, 3:00 p.m.
Yo-Yo Ma, cello, and Kathryn Stott, piano
Saturday, January 26, 7:00 p.m.
Saturday, February 16, 8:00 p.m.
Anne-Sophie Mutter, violin
Saturday, March 2, 8:00 p.m.
Jazz at Lincoln Center Orchestra with Wynton Marsalis
Thursday, March 21, 8:00 p.m.
Sunday, April 7, 3:00 p.m.
Elīna Garanča, mezzo-soprano
Tuesday, April 9, 8:00 p.m.
Wednesday, April 18, 8:00 p.m.
Tara Erraught, mezzo-soprano
Sunday, April 21, 3:00 p.m.
Los Angeles Chamber Orchestra
Jeffrey Kahane, conductor and piano