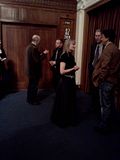 Friday night violinist
Janet Packer
& pianist
Geoffrey Burleson
presented a
program
of largely unfamiliar works at
Old First Church
. Ms. Packer used a microphone to introduce each piece briefly. We learned that she sought out Polish composer Krzysztof Meyer to write
Imaginary Variations
for her. When she started to study the music, she couldn't find the theme for the variations. She asked the composer about this, & he replied that since the variations were "imaginary," there is no theme. The piece is in several discrete sections & is assertive & moody. It builds urgently in its 2nd half to a forceful, conclusive ending. Ms. Packer impressively played it from memory, as she did her entire program. She has a 17th century instrument that is mellow in the lower strings & sweet higher up. Her playing is direct, & she smiles often.
A jolly, toe-tapping Rondo by 20th century Italian composer Vittorio Rieti separated
Imaginary Variations
from Debussy's Violin Sonata, performed in an assured manner. Mr. Burleson played with clarity & a sense of security & never overshadowed the violin. His rippling piano passages sounded shimmery.
A large sonata written in 1900 by Gabriel Pierné took up the 2nd half. Ms. Packer described Pierné as an exact contemporary of Debussy, who was successful in his time but has since dropped from the standard repertoire. His sonata is profuse & fluid. The pianist has a lot of notes, often providing a fluttery, undulating background. The outer movements end in flashy codas, & the middle movement is light & dance-like.
The audience of about 40 was polite & attentive. A woman in the pew in front of me photographed Ms. Packer during the performance but fortunately without using a flash.
§ A Polish Premiere and Music with a French Flavor
Janet Packer, violin
Geoffrey Burleson, piano

Krzysztof Meyer: Imaginary Variations, Op. 114 (San Francisco Premiere; written for Janet Packer)
Vittorio Rieti: Rondo Variato in F major
Claude Debussy: Sonata in G major
Gabriel Pierné: Sonata in D major, Op. 36

Friday, March 30, 2012 at 8:00pm
Old First Church Concerts