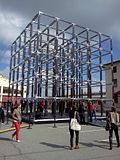 Sunday morning I stopped by Fort Mason to check out the Intel-sponsored
Creators Project
. I was told that 6,000 showed up the previous night for the technology-inspired art installations, talks, films & live music. The event has already blogged about itself
here
. On Sunday morning the installations were still up & being visited mostly by families wandering over from the farmers' market.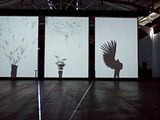 I really liked
Chris Milk
's
The Treachery of Sanctuary
, in which viewers see their projected silhouettes unnervingly transformed into birds. I was also punished by
Barney Clay
's
Life on Mars Revisited
, in which viewers are trapped in a room & blasted with a David Bowie music video played loud enough to break up kidney stones . After it was over, one of the viewers asked, "Do people actually like this?"
§ The Creators Project
Fort Mason, San Francisco, March 17 - 18