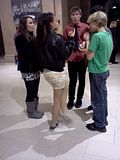 Herbst Theatre had the energy of a beehive for the
Cypress String Quartet
's
Call & Response
program Friday night, featuring the world premiere of
Philippe Hersant
's 3rd string quartet. This is an outreach concert, & a third of the attendees looked younger than 12. The Cypress Quartet plays warmly & makes a pretty sound. The Haydn String Quartet Op.20 No.1 had a smooth sheen. I like cellist
Jennifer Kloetzel
's effortlessly plump & happy sound. She introduced the Beethoven late String Quartet Op.127 & told us that of the 90 concerts the quartet does a year, the Call & Response concerts are their favorite. This particular Beethoven quartet was chosen because it is Mr. Hersant's favorite. The interpretation was burnished & without rough edges. In the 1st movement, there was a nice contrast between the chordal passages & the unstable melodic sections. The Scherzando had a dainty feel. 1st violin
Cecily Ward
has a consistently sweet tone, even when she plays high up on the G string. The quartet tired a bit in the final movement, & 2nd violin
Tom Stone
almost stumbled when he stood up at the end.
After intermission, Ms. Ward introduced Mr. Hersant, & he described the 3 movements of his new quartet as 3 pieces of different length & character. The 25 minute piece is colorful & immediately appealing, & the Cypress Quartet gave it a glowing performance. A slow, sad melody, introduced by the cello, unwinds in the 1st movement, which sounds a bit like Shostakovich. Violist
Ethan Filner
played a lovely solo high up on the instrument, accompanied by pizzicato from the rest of the quartet. The short 2nd movement is a brusque scherzo with fanfare-like themes. The long 3rd movement opens with an unexpected duet between the 2nd violin & viola, & there are many surprising mood shifts. Each player gets virtuosic solos, & there is a shimmering passage near the end where the cello sings over a fluttery accompaniment. The piece ends rather suddenly, with a bright flourish.
The audience was generally quiet & gave the performance an immediate standing ovation. They selectively applauded the 1st movement of the Haydn & the Scherzando of the Beethoven. A woman in the row in front of me was chaperoning 3 very young children, one of whom wanted to go home after the 1st half. The woman seated directly in front of me carried in a large shopping bag, which flopped over noisily during the Hersant. 2 camera flashes went off in the 2nd half.
§ Call & Response 2012

Cypress String Quartet
Cecily Ward, violin
Tom Stone, violin
Ethan Filner, viola
Jennifer Kloetzel, cello

Haydn: String Quartet in E-flat Major, Op.20 No.1
Beethoven: String Quartet in E-flat Major, Op.127
Philippe Hersant: Quatuor à Cordes No. 3

Friday, March 16, 2012, 8:00pm
Herbst Theatre