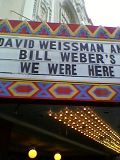 This afternoon I was at the Castro Theatre's matinee of
We Were Here
,
David Weissman
's weepy documentary about the early years of the AIDS epidemic in San Francisco. Mr. Weissman was on hand to introduce the show, telling us that he "really made the movie for this theater." The film interleaves talking-head interviews with 5 people who were active at the center of the AIDS crisis. The interviewees are open & self-reflective, & all of them get teary-eyed at some point. Instead of covering a lot of historical facts, the film conveys the emotions of living through the worst years of the epidemic. Archival images of people with KS lesions are a jolting reminder of the fear prevelant in the early 80s.
Mr. Weissman &
Ed Wolf
, one of the film's subjects, took questions from the audience after the show. Mr. Weissman hinted that there are probably a lot of people of his generation suffering from unacknowledged feelings of loss. In response to a question about people who consciously wish to become infected with HIV, Mr. Wolf provocatively admitted that he could see why some people would consider it an attractive option. Because of the success of the San Francisco Model, being HIV+ immediately puts one at the head of the line to receive a plethora of support services.
There was a large audience, & the attendees included a group of high school students, for whom the film is presumably all new information. When I left the theater, there was already a line forming for the next show.
§ We Were Here
Produced and directed by David Weissman