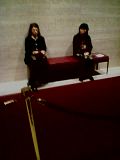 I heard a lot of people greeting each other in Russian as I waited in the lobby of Davies Hall Sunday evening for the
sold-out appearance
of the
St. Petersburg Philharmonic
. The orchestra is large, with 8 double-basses standing behind the cellos & 2 harps for Rimsky-Korsakov's
Russian Easter Overture
. The orchestra makes a big sound that is plush, deep & grounded. The overture was rousing. Concert master
Lev Klychkov
has great hair & displayed a weighty, continuous sound in his solos.
Cellist
Alisa Weilerstein
was soloist in the Shostakovich
Cello Concerto No. 1
. She digs into every note & gets a brash & bright sound. She is unrelentingly forceful. Well into the final movement she broke a string. There was a very audible pop, & the music came to a stop as she stood up & walked swiftly off stage, leaving the audience & the orchestra members buzzing among themselves. A minute later conductor
Yuri Temirkanov
followed her, in a gesture of concern. The audience greeted them with applause when they returned a couple of minutes later, & everyone neatly resumed from the interruption. Ms. Weilerstein received an excited standing ovation.
After intermission the orchestra gave us a full-bodied Brahms 4. They never play softly, & the orchestral solos are assertive. The brass & woodwinds have a heavy sound. I normally dislike these things, but I was instead won over by the band's grand & embracing manner. I would love to hear them in a Prokofiev program. Maestro Temirkanov uses soft, rounded gestures & presides over the orchestra benevolently. They offered the
Nimrod Variation
as a somber encore. The strings, & especially the violas, showed off their dark but warm sound.
§ Yuri Temirkanov conducts the St. Petersburg Philharmonic
Yuri Temirkanov, conductor
Alisa Weilerstein, cello
St. Petersburg Philharmonic

Rimsky-Korsakov: Russian Easter Overture
Shostakovich: Cello Concerto No. 1
Brahms: Symphony No. 4

Encore: Elgar: Nimrod Variation

Sun, Mar 27, 2011 7:00pm
Davies Symphony Hall