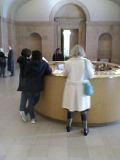 Monday morning I attended the
New Century Chamber Orchestra
's
open rehearsal
for their up-coming
Mastery of Schubert
program. The concerts feature soprano Melody Moore, but she did not participate in this rehearsal. However, I was curious about how the ensemble manages without a conductor, & this was a real working rehearsal. Violinist
Nadja Salerno-Sonnenberg
wore a long-sleeve jersey with the words "NCCO LIVE" on it, & she definitely leads the proceedings. They began with the Presto movement of the Mendelssohn
Octet
, 2 or 3 players per part, & it was stop-and-go the whole way. Typically, Nadja hears something that bothers her, they stop, & they discuss how to resolve the problem. Decisions about ensemble, tempo, dynamics, articulation & mood are made on the spot. I saw every musician contribute comments & suggestions. Twice Nadja ran off the stage to assess balances. The process is incremental, & I did not notice huge changes in the passages they worked over. Interestingly, they never got stuck. There were cruxes when an issue was not solved to everyone's satisfaction, but somehow they knew to move on. They got through the Scherzo movement just before the break.
After the break, they ran the entire Bach
Violin Concerto in E Major
, with Nadja as soloist. She played with nearly the same level of nervous intensity as in performance. Her suggestions mostly consisted of asking the orchestra to play softer during her solos. At one point she was so puzzled by an accompanying viola line that she checked which edition of the score they had.
The rehearsal lasted about 2 and half hours, including a break at 11:15pm. There were about 30 audience members, & everyone was very quiet, except for a baby crawling around the auditorium during the 1st half. These open rehearsals cost $8 at the door, & your ticket stub is good for a discount on an evening performance. Unfortunately I will not hear how it finally comes together.
§ New Century Chamber Orchestra
Open Rehearsal

Mastery of Schubert
Bach: Violin Concerto in E major
Nadja Salerno-Sonnenberg, violin
Schubert (arr. Assad): Lieder
An den Mond, D. 259
An den Mond, D. 296
Gretchen am Spinnrade, D. 118
Sehnsucht, D. 636, Op. 39
Melody Moore, soprano
Mendelssohn: Octet in E-flat major, Op. 20

Monday, March 21 at 10am
Herbst Theatre