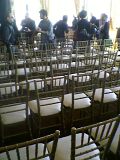 This morning in the swank Westin St. Francis, the
San Francisco Film Society
held a press conference announcing the up-coming
San Francisco International Film Festival
. Executive Director Graham Leggat and programmers Rachel Rosen, Sean Uyehara, Rod Armstrong & Audrey Chang gave us an overview of the wide selection of films, though it is difficult to get one's mind around a schedule of 189 films plus special events. Ewan McGregor is expected to be present at the opening night movie,
Beginners
. Closing night is
Tournee
, a French film featuring a cast of New Burlesque performers, some of whom will attend & perhaps perform. One of them, Suzanne Ramsey, aka "
Kitten on the Keys
", was at the press conference, wearing a voluptuous red dress & cat ears.
The Festival Spotlight is on 3 films exploring "flat art":
Cave of Forgotten Dreams
, Werner Herzog's documentary about the Chauvet cave paintings;
The Mill and the Cross
, about Bruegel's
The Way to Calvary
; and
Nainsukh
, about an 18th century Indian miniaturist. Live events include
Tindersticks
performing a live soundtrack to short films, Leonard Cohen's
New Skin for the Old Ceremony
, the
Zellner Brothers
, &
Porchlight
, which Mr. Uyehara described as a "disaster" when done last year. Documentary highlights include
Detroit Wild City
and
Cinema Komunisto
. Under the New Directors category, programmers noted
Sound of Noise
,
End of Animal
&
Le Quattro Volte
. The programmers also pointed out 3 films from the Middle East:
Microphone
,
Circumstance
&
The Green Wave
. Fassbinder's TV movie
World on Wire
will be screened in a digital version in San Francisco & as a film print at the FPA, so you can compare & contrast.
When asked to name a favorite film, Mr. Leggat did not hesitate to name
The Mill & the Cross
. He recommended
A Cat in Paris
for children. Programmers also mentioned
The Trip
&
Letters from the Big Man
, which Mr. Uyehara said makes you ask yourself, "Why am I resisting this film?" There are already 3 more films added to the festival which are not in the printed schedule:
Magic Trip
,
Another Earth
&
Submarine
.
This event started at 10am but must have been early for many of the attendees, who were competitive in the coffee line. A large screen sat in the room, but we did not see any film clips. I sat behind an official from the San Francisco Arts Commission who turned out to be the person who brought Zhang Huan's wonderful
3-headed buddha
to Civic Center Plaza.
§ San Francisco International Film FestivalApril 21 - May 5, 2011
Screenings at the Kabuki Cinema, Castro Theatre, New People VIZ Cinema, SFMOMA & the PFA. Ticket sales for the general public begin tomorrow.