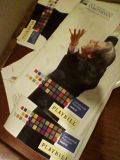 Conductor
Kurt Masur
looked thin & frail as he walked to the podium to conduct this
all-Mendelssohn program
with the
San Francisco Symphony
. His movements were minimal, & his left hand often dangled at his side, shaking with a tremor. Yet he was very much in control of the music & always well ahead of the orchestra. The
Italian
Symphony felt taut, transparent & sun-lit, & ensemble was very tight. The orchestra was re-arranged so that the woodwinds, brass & timpani were all on the right side. The violins, filling the left side, predominated, & their sound was shimmering & bright. Oboist
Bill Bennett
made the most gorgeous sound of the evening with his slow crescendo on a single note at the end of the development. The performance clearly pleased, & the audience applauded for the 1st & 2nd movements.
After intermission, we got Mendelssohn's complete music for
A Midsummer Night's Dream
. It was nice to hear the familiar Overture & Wedding March, but this experience did not convince me that it makes sense to perform all the music in concert. There is a lot of repetition &, since Mendelssohn focuses on the play's fey elements, not much variety of mood. Everyone did a good job of sounding airy, but I tired of admiring how well Mendelssohn depicts insects in flight. The
San Francisco Girls Chorus
, around 50 strong, was well-prepared & made a smooth, floaty sound. The vocal soloists participate only briefly, so
Susannah Biller
&
Maya Lahyani
had an assignment that consisted mostly of sitting at the back & smiling.
Interspersed with the music, & sometimes over it, narrator
Itay Tiran
performed speeches from the play, though the selected texts did not convey a narrative. He used different voices for each character. His Puck was a leprechaun. The audience gave the performance a standing ovation & responded warmly to the SF Girls Chorus, Mr. Tiran & Maestro Masur.