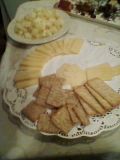 Sunday afternoon I was in a
little church in Noe Valley
to hear Bach's
Goldberg Variations
, transcribed for string trio. Immediately after I bought my ticket, I was told where the restrooms were & informed that there would be no intermission. An audience of around 75 people nearly filled up the small space. Violinist
Leor Maltinski
introduced the performance & asked cellist
Angela Lee
to play the Aria's bass line, which is the source of the variations.
The trio plays with a nice expressive freedom, sometimes changing moods mid-phrase. I like Mr. Maltinski's natural rubato & the evenness with which he plays very rapid passages. Ms. Lee plays with a lot of variety, & her attacks can be biting & rough or smooth & organ-line. Violist
David Kim
makes a reliable, solid sound that blends with both the violin & the cello. Transcriber
Dmitry Sitkovestky
cleverly arranged 3 of the variations as duets, each with a different pairing of instruments. Variation 7 was a tripping dance for violin & cello, & Variation 17 a flirty conversation between cello & viola.
There were some flashy moments, such as the rush of notes in Variation 26, ending with a booming sound from the cello. The trio built up the tension in the closing variations, finally digging into the Quodlibet with long, full bow strokes & a sense of arrival. It made a man in my row giggle. The audience was attentive & appreciative & gave the trio a standing ovation. The performance took about 70 minutes, & there was a dessert, wine & cheese reception after.
§ Noe Valley Chamber Music
Kim-Lee-Laltinsky Trio

Leor Maltinski, violin
David Kim, viola
Angela Lee, cello

Bach: Goldberg Variations, BWV 988
Transcribed for String Trio by Dmitry Sitkovetsky

March 13, 2011 4:00pm
Holy Innocents Episcopal Church