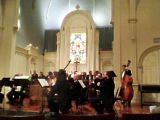 Following the
captivating

Orphée
at Herbst Theatre on Sunday, I had a burger, a drink & a brisk walk, & I ended up at St. Mark's for
American Bach Soloists
's program of
odes by Purcell & Handel
, all in refulgent praise of Queens Mary, Caroline & Anne. It was funny to hear Elizabeth get dissed in Purcell's
Now does the Glorious Day Appear
. But since these are all happy odes, the program had a somewhat limited variety of moods. The duet about rolling streams from Handel's
Birthday Ode for Queen Anne
was positively cute.
The American Bach Soloists give immaculate, proficient performances that could go straight to CD. The ensemble is very precise. The cut offs & tutti rests were always sharp & definite. I usually expect Baroque instruments to be temperamental, but, apart from a single squawk from an oboe, they were flawless. Even the valveless trumpets were completely in tune, with a very straight tone.
All the singers were fine, with voices well-suited to the repertoire. Our 2 countertenors had nicely differentiated sounds.
Jay Carter
, a last-minute replacement, has an easy, mellow & unconstricted voice.
Clifton Massey
's sound is smooth & airy. Baritone
Jesse Blumberg
has a steady, even voice with a clear center of pitch. Tenor
Aaron Sheehan
is ringing & bright, & I wish he had gotten more arias. Soprano
Elizbeth Weigle
has a bright, slightly steely sound with just a bit of a warble. The 20-member chorus is well-rehearsed & makes a very uniform sound. The balances between chorus, soloists & orchestra were ideal, & the soloists were never covered.
ABS has one of the most attentive, quiet & appreciative audiences I have ever sat with, so perhaps the musicians are right to emphasize clean execution. The audience is also exceedingly polite. During a break, the man seated in the pew behind me asked if I could scoot over a couple of inches in order not to block his view. He was so nice about it that I felt embarrassed about my height, even though I often complain that I am the shortest guy in my family.
§ Now Does the Glorious Day Appear
Music for the Royal Women of Britannia

American Bach Soloists
American Bach Choir
Jeffrey Thomas, conductor

Elizabeth Weigle, soprano
Jay Carter, countertenor
Clifton Massey, countertenor
Aaron Sheehan, tenor
Jesse Blumberg, baritone

Purcell: Now Does the Glorious Day Appear
Purcell: Come, ye Sons of Art
Handel: Te Deum in D Major
Handel: Ode for the Birthday of Queen Anne

Sunday 27 February 2011 7:00 pm
St. Mark's Lutheran Church