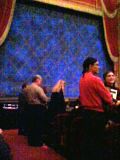 This Sunday I was at
Ensemble Parallèle
's impressive staging of
Philip Glass's

Orphée
. The production has a dream-like circus atmosphere, incorporating video, acrobatics & Felliniesque costumes. The opening cafe scene took place off to the side, barely visible to many in the audience, while the orchestra sat on the front of the stage. But it turned out that director
Brian Staufenbiel
was just faking us out, & a hitherto unknown feature of Herbst Theatre allowed him to set our view right. Attractive videos featuring the performers were projected into 5 picture frames above the set to illustrate the musical interludes. Video also provided some special effects, but it was never overdone. The opening of Act II, set in the underworld, featured expert circus artists. Among the spectacles was a breathtaking
aerialist
who kept herself aloft by clinging to 2 long draperies hanging from the flys. I was so mesmerized that I paid attention to nothing else while she was hanging in the air.
The entire cast was great, & anytime anyone opened their mouths a beautiful sound came out.
Eugene Brancoveanu
, as Orphée, has a large velvety sound that he seemingly produces without effort. He has an unruffled stage presence & did 2 fearless & convincing stage falls.
Marnie Breckenridge
, dressed as a slinky ring master, gave a well-rounded singing & acting performance as the Princess. Her character was always in control, even when sacrificing herself at the end.
John Duykers
was a sympathetic Heurtebise, & his distinctive narrow, fervid sound was a wonderful complement to Mr. Brancoveanu's denser baritone.
Susannah Biller
's voice is bright & clear, & she was a naturalistic actress as the forlorn Eurydice.
Philip Skinner
was both imperious & grotesque as the underworld judge, in a powdered wig bigger than the one worn by Beach Blanket Babylon's King Louie. & I'm sure he did not need that amplification.
The score, with its incessant repetition, is unmistakably by Philip Glass. Several times I found myself unconsciously counting the beats. One starts to recognize broadly descending or ascending motifs, & there is even a reference to Gluck's
Orfeo
. There are no arias, & the vocal lines follow the pace of spoken speech. Conductor
Nicole Paiement
gave the performance a sense of continual flow.
After the performance I was fortunate enough to be introduced to Ms. Breckenridge, & I also got to congratulate
SFMike

on his participation
in this engrossing production. I was amazed to learn that they only had since Wednesday to rehearse in Herbst Theatre itself, on that complex multilevel set. So much good work went into this, & I cannot believe that there were only 2 performances.
§ Philip Glass: Orphée
Ensemble Parallèle
Nicole Paiement, conductor
Brian Staufenbiel, director & production designer

Orphée, Eugene Brancoveanu
La Princesse, Marnie Breckenridge
Heurtebise, John Duykers
Eurydice, Susannah Biller
Poet/Judge, Philip Skinner
Cégeste/Reporter, Thomas Glenn
Police & Commissaire, Austin Kness
Aglaonice, Brooke Muñoz

Roue Cyr Artist, David Poznanter
Aerialist, Marina Luna
Circus Artist, Ajina Slater

Herbst Theater, San Francisco
2:00 p.m. on February 27, 2011