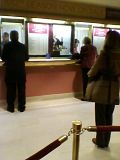 Thursday evening's

San Francisco Symphony

subscription concert
was well-attended, but the audience was subdued compared to Monday's Israel Philharmonic
event
.
MTT
felt the need to speak before conducting Hindemith's
Concert Music for String Orchestra and Brass
, observing that the excellent program notes fail to convey "How much we enjoy playing this piece." We also learned that the work was a favorite of Leonard Bernstein, who used to joke that he wish he'd written it. It's a complex piece, with lots of contrapuntal writing & groups of instruments playing in opposition. It was easy to hear the influences of both Bach & jazz. The whole orchestra had a bright, gleaming sound, especially the string sections. The violins often had to play at the extremes of their range. The end of Part I, with its lush, blazing brass chords, made a ringing impression. A highlight of Part II was
Mark Inouye
's sustained trumpet solo.
Mezzo
Anne Sofie von Otter
sang a set of 7 love songs by Wilhelm Stenhammar, Nielsen, Grieg & Sibelius, with texts in Swedish, Danish, Norwegian & Finnish. Ms. von Otter has a pretty voice, & there were many small but expressive details in her singing. She made each song into a little story, for instance sounding like an eager young girl in Stenhammar's
Flickan knyter i Johannenatten
. She executed a lovely, controlled pianissimo in Grieg's
En Svane
. She sang with nice dynamic contrast in Sibelius's
Kaiutar
, giving it an almost operatic feel. The orchestrations, in many cases by different composers, were attractive & shimmering. I liked the way that various solo instruments took turns accompanying the voice in Max Reger's arrangement of Grieg's
Jeg elsker Dig!
Ms. von Otter offered us a bobbing encore in Swedish, & she could not resist adding her own little dance steps.
MTT & the orchestra gave Brahms's
Serenade No. 1 in D
a buccollic & soft-textured performance. It flowed simply, from moment to moment. My favorite parts were the beautiful, even-toned solos from clarinetist
Carey Bell
& oboist
Bill Bennett
. I generally enjoy Brahms, but I have to admit that the piece seems too long. There was a smattering of applause after the penultimate Scherzo movement. MTT turned to the audience & said, "One more!" He then added encouragingly, "We like this one the best!"
§ MTT and Anne Sofie von Otter
San Francisco Symphony
Michael Tilson Thomas, conductor
Anne Sofie von Otter, mezzo-soprano

Hindemith, Concert Music for String Orchestra and Brass, Op. 50

Songs of Scandinavia:
Stenhammar, Flickan knyter i Johannenatten
Nielsen, Genrebillede: "Pagen hojt paa Taarnet sad"
Sibelius, Demanten på marssnön
Grieg, En Svane
Sibelius, Kaiutar
Grieg, Jeg elsker Dig!
Sibelius, Var det en dröm

Encore:
Wilhelm Peterson-Berger, Aspåkers-polska

Brahms, Serenade No. 1 in D Major, Op. 11

Thu, Mar 3, 2011 8:00pm
Davies Symphony Hall