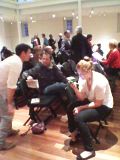 Saturday afternoon's performance by
Volti
was delayed by 10 minutes to give people extra time to find the venue at the Walt Disney Family Museum in the Presidio. Those who lost their way may have included one of Volti's tenors, who slipped in after the 2nd piece on the program. During the opening announcements, another singer was reprimanded when she came in through the wrong door. The venue itself is a shoe-boxed shaped room with a tall ceiling. There were around 60 of us, seated in folding chairs, & this was close to the capacity of the room.
The 1st half of the program contained 4 pieces from different composers. All are in a modern style that is sometimes dissonant but never entirely atonal. They are mostly in 4 vocal parts & do not demand any exotic singing techniques. The composers were all present & looked rather academic. Mr. Flaherty & Mr. Lipten both said a few words before their pieces. The 20 singers of Volti make a very clean, unified sound & they easily filled the live, ringing space. Their ensemble is very close. Unless there was a solo, I could not pick out individual voices.
Soprano
Kristen Brown
began
Frank Stemper
's tribute to Senator Paul Simon with a startling, clarion call to arms. The piece, using trite phrases from the senator's writings, feels elegiac & beseeching. It ends dramatically with additional female voices singing to us from the upper gallery.
Tom Flaherty
set 5 poems by Stephen Crane in alternating fast & slow movements. Each song has a motion that matches the words of the poem, & there is an over-all feeling of story-telling.
David Lipten
's setting of poems by E.E. Cummings are spare, taut & suspenseful. The delicate "un(bee)mo" was time-stopping.
Kirke Mechem
set 5 poems about spring from different authors. Each song uses a different musical trope, & the final song -- loud, angry & full of disgust -- quotes the bouncy madrigal that opens the cycle in order to mock its cheeriness.
After the intermission, Kristen Brown &
Paul Ingraham
, reading from a script, explained the political background of
Louis Andriessen
's
Flora tristan
& noted its difficulties for both performers & hearers. We were also told that this performance was being done in conjunction with Artists Against Rape. The chorus is divided into a men's side & a women's side, which move on parallel tracks as they intone a multi-layered text in Spanish, English & French without benefit of melody, melisma or word repetition. The sopranos have to sing relentlessly high, & there are no places for the ear to rest, so the piece is a sonic assault lasting nearly 20 minutes. It ends with several loud climaxes that left my ears ringing. Curiously, a woman seated across from me occupied herself by knitting during the performance.
Unfortunately I had to pass up the dessert & wine reception afterward in order to get to
an event at Davies Hall
. I did at least grab one of the delicious brownies on my way out.
§ Volti
Robert Geary, Artistic Director

Frank Stemper: A Brief Message from Makanda, Illinois (2005)
Tom Flaherty: Delusional Paths (2010 Volti Commission, World Premiere)
David Lipten: Time's Dream (2003)
Kirke Mechem: Five Centuries of Spring (1964)
Louis Andriessen: Flora tristan (1990)

Sunday, November 7, 4:00 PM
Walt Disney Family Museum, The Presidio