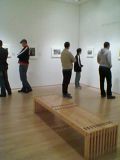 I was really excited to view the large
Henri Cartier-Bresson

retrospective
at the
SFMOMA
. He is my god of photography, & I was glad that the show included a lot of images that I had never seen before, such as his color spreads for
Life
about China's Great Leap Forward. The photos are grouped by both chronology & theme. It was interesting to see that he was influenced by Surrealism early in his career. It is almost unbelievable that he managed to be in so many places at key moments, such as in China during the last days of the war or in the American south during some of the earliest civil rights actions. How did he end up photographing wrestlers in Ulan Bator in 1958 or getting right in the middle of Gandhi's funeral?
Even though most of his photographs fall into the category of photojournalism, there is a classical aesthetic at work that gives them a timeless quality. Many of his scenes look like they could have happened at any time. Because Cartier-Bresson does not explain what he shows, the images are open to multiple interpretations. I also think he is brilliant at capturing joy. His 1946 snapshot of a mother & son reunited in New York is typical in combining all these elements.
The prints are mostly relatively small, & many of the earlier ones in particular look faded compared to the high-contrast gallery prints one is used to seeing. Many of the prints come from the Foundation Henri-Cartier Bresson & represent how the images were distributed to print media. I suppose this gives the exhibit a stamp of authenticity. It also raises the question of what authenticity means in the context of a photo exhibition. The show also includes issues of magazines like
Life
&
Match
containing his images. The exhibit takes up the entire 3rd floor photo galleries & is really too large to take in at one go, so I hope I will have chances to visit again.
To finish our museum visit, we of course got coffee in the upstairs cafe. From the sculpture garden, we could peek in & see staff installing a fake museum shop in the 5th floor gallery. Items being stocked include colorfully packaged one dollar bills, priced at 99¢. Looks like fun!
§ Henri Cartier-Bresson: The Modern Century
SFMOMA
October 30, 2010 - January 30, 2011