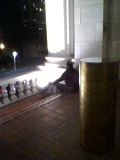 Wednesday I was in standing room for the opening night of
The Makropulos Case
at
SF Opera
. All the elements come together beautifully in this production. Reading the convoluted synopsis before the lights went down, I wished I had done more homework beforehand, but the galloping overture with the off-stage brass band got my attention right away. There was always something amazing going on in the orchestra, which played brilliantly for
Jiří Bělohlávek
. The textures were vivid yet transparent. I enjoyed the sound of the flute solos & the tight brass playing.
Kay Stern
played a gorgeous violin solo in the 3rd act.
The cast was excellent, everyone giving equally strong vocal performances & each character having a clear personality.
Karita Mattila
's voice had the same force whether she was singing very high or very low. She has a kind of animal presence & frank sexuality onstage. In Act II she lifted her foot over her head, did the splits, & put her body into other strange shapes that I did not understand.
Matthew O'Neill
was grotesquely funny as the ancient Count Hauk-Šendorf, & the audience gave him a round of spontaneous applause at the end of his scene with Matilla in Act II.
Susannah Biller
, as the gawky young Kristina, sounded solid.
Gerd Grochowski
was totally convincing as the reptilian Baron Jaroslav Prus.
Miro Dvorsky
's Gregor was unsettling.
Austin Kness
&
Maya Lahyani
shined in their brief scene at the beginning of Act II.
The attractive black & white sets look like large architectural drawings with heavy cross-hatching. Each scene is dominated by a large clock that turns out to be keeping the actual time. All the sets are on a large turntable which we see rotate during the overture. Curiously, the curtain came down at the end of the Act I, causing the audience to applaud before the end of the music. When the curtain came back up, the set had already rotated for Act II.
I came to this performance knowing pretty much nothing about the opera, so I was kept very busy reading the supertitles. I also could not help paying a lot of attention to the orchestra, which drives, comments on & even mocks the action. I was confused by the off-stage men's chorus in the final act, but the effect was other-worldly. In the final moments, the audience gasped when Gregor grabbed the formula from Kristina & set it on fire, a staging which differs from the original scenario.
I arrived early enough to witness the
Opera Tattler
in the box-level bar as she helped her foppish opera companion get into his tie.
SFMike
was also in standing room for the 1st half. He had to leave at intermission, but not before bringing me an origami book with lots of great photographs. I should have expected that my favorite
degenerate blogger
had written the background essay in the program.
§ The Makropulos Case
San Francisco Opera

Conductor: Jiří Bělohlávek
Director: Olivier Tambosi
Production Designer: Frank Philipp Schlössmann

Emilia Marty: Karita Mattila
Albert Gregor: Miro Dvorsky
Baron Jaroslav Prus: Gerd Grochowski
Dr. Kolenaty: Dale Travis
Vitek: Thomas Glenn
Kristina: Susannah Biller
Count Hauk-Šendorf: Matthew O'Neill
Janek: Brian Jagde
A Stagehand: Austin Kness
A Chambermaid, A Cleaning Woman: Maya Lahyani

Wed Nov 10 2010 7:30pm
War Memorial Opera House