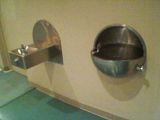 Sunday night I was in San Rafael for a
substantial program
by the
Marin Symphony
. I was a bit taken aback by the Marin Center's cavernous size & powder blue interior. The long rows are not split by any aisles, so we had to step on many toes in order to get to our seats in the middle of the orchestra section. The sound from these seats was unexpectedly live & loud, though.
The program began with the world premiere of
Avner Dorman
's
(not) The Shadow
, a 15 minute tone poem inspired by the Hans Christian Andersen tale
The Shadow
. The piece is in several distinct sections & is densely orchestrated. A core middle section is introduced by a rain stick & features undulating repetitions of an arpeggio motif. This chugging arpeggio is taken up prominently by the piano, & it reminded me a little of John Adams. The performance sounded very well prepared, with no tentative moments.
I liked the rapport between conductor
Alasdair Neale
& soloist
Jenny Douglass
for the bucolic Walton
Viola Concerto
. Ms. Douglass's playing is clean & pleasant. Her interpretation stressed the picturesque aspect of the concerto. There was a smattering of applause after the cheerful & quick middle movement. After her performance she received flowers from 2 small boys who turned out to be her sons. She also received a bouquet from the viola section, of which she is the principal.
The opening of Tchaikovsky's
4th Symphony
was brash & extroverted. Maestro Neale led without a score, & his gestures were very clear & definitive. The pizzicato movement was nicely done, with good ensemble & everyone having the same phrasing. The final movement was often fast & loud, but Maestro Neale always kept it under control. Concert master
Jeremy Constant
is a vigorous player, & he occasionally entered excitedly ahead of his section. The audience responded to the finale with a standing ovation.
Someone's cell phone rang twice during the 1st half of the concert, & the owner evidently did not hear it both times. A lady in front of me wore earrings that jangled whenever she moved her head. The tingling noise may have complemented the Dorman piece, but it was distracting for the other works on the program. A mechanical rattle, perhaps coming from the ceiling, could be heard intermittently during the Tchaikovsky. The venue did not seem to offer any beverage service, which I suppose could also be classed as an annoyance.
§ World Premiere & Virtuosity
Marin Symphony
Alasdair Neale, conductor
Jenny Douglass, viola

AVNER DORMAN: (not) The Shadow (world premiere)
WALTON: Viola Concerto
TCHAIKOVSKY: Symphony No. 4

Sunday, November 14, 2010 at 7:30pm
Marin Center, San Rafael