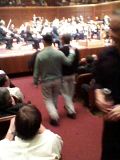 This concert
began with Milhaud's jazz-inspired
La Création du monde
. It is scored for a motley assortment of instruments, including 2 violins & a cello seated next to a saxophone. The saxophone figures prominently, but my favorite part was a jazzy solo from clarinetist
Carey Bell
. Conductor
Michael Francis
made a lot of jabbing gestures & circulating motions with his arms, & he led a tight, rhythmically precise performance.
Davies Hall was quite full, the audience clearly excited to hear
Rufus Wainwright
premiere his settings of Shakespeare sonnets. Before singing, Mr. Wainwright told us that on the previous evening the conductor pointed out that he had a habit of audibly stamping his feet while he sang, & he was often ahead of the beat. In order not to distract the conductor this evening, Mr. Wainwright removed his clogs, held them up for the audience to see, then performed in bare feet. His song cycle consists of sonnets 43, 20, 10, 129, & 87 & charts a story of unrequited love. The settings are straightforward, & a full symphony orchestra provides background color & texture but is not structurally integral. Mr. Wainwright was of course amplified. His voice has a distinctive throaty warble, & his soft high notes sound barely squeezed out of him. I liked his performance of No. 20 the best, which he gave a strong sense of longing. He frequently looked up at the conductor, which only enhanced his curiously vulnerable stage presence. The audience greeted his performance with cheers & shouts of "Rufus!"
Surprisingly, there was no more than the usual audience attrition after intermission. Weill's sardonic Symphony No. 2 contains many song-like motives & sounds like the composer's theater music to me. Maestro Francis kept the ensemble tight & his conducting was sharp-elbowed & driving. The ending had a brilliant sonic flash. There were prominent solos from all sections, but clarinetist Carey Bell was again the star, playing brightly in a variety of solos.
§ Rufus Wainwright Performs World Premiere
San Francisco Symphony
Michael Francis, conductor
Rufus Wainwright, vocalist

Milhaud: La Création du monde
Rufus Wainwright: Five Shakespeare Sonnets (San Francisco Symphony Commission, World Premiere)
Weill: Symphony No. 2

Saturday November 13, 2010 8:00 PM
Davies Symphony Hall