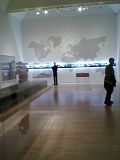 Friday afternoon a friend took me along to the members' preview at the
SFMOMA
of
How Wine Became Modern
, a design exhibit about the modern wine industry. The exhibit includes sealed petri dishes of dirt (to illustrate the concept of "terroir") & a wall of wine bottles categorized by label design. I do not understand why the collection of impractical-looking wine glasses is in a case that is slowly filling with a dripping red liquid. A useful instructional segment allows visitors to smell odors commonly found in wine. One room is all about wine tourism. The Orson Welles "Sell no wine before its time" commercial plays in one of the video installation. I felt like I was in a wine country visitors' center, except I could not find the tasting room.
I got the most out of the evening by
revisiting the Henri Cartier-Bresson show
. Also, what I had thought was a fake museum store on the 5th floor is actually a real store called
Shadowshop
. It sells inexpensive items from local artists. Just as we got up to the 5th floor to check it out, however, the shop was closing, & we were chased out. A few wineries sold $2 tastings at the party downstairs, but my friend opted for a beer while I had a gin & tonic.
§ How Wine Became Modern
Design + Wine 1976 to Now
SFMOMA
November 20, 2010 - April 17, 2011