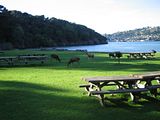 On Monday I played tourist in my own city & visited
Angel Island
for the first time since I was a school kid. I accompanied an
out-of-town visitor
who constantly puts me shame by knowing more about what's going on in San Francisco than I do. There were only about a dozen people on the ferry that morning, so we barely ran into anyone while hiking around the island. I really enjoyed the quiet, with the significant exception of an annoying electronic beep, probably coming from some lighthouse.
Unfortunately the museum at the
immigration station
was closed, but we could walk around the newly renovated grounds. The decaying buildings at Fort McDowell are strangely picturesque. We hiked to Mt. Livermore at 788 ft & were rewarded with a spectacular 360° view of the bay. We totally lucked out with the weather, which was cool & clear with only a few fast-moving clouds. I am not much of a nature guy, but my companion was absolutely delighted.
The island offers
amenities
such as food service, tram rides & segway tours, but none of these were available on the day of our visit. The ferry was met by a park ranger, though, who handed out maps & gave directions. We encountered quite a few deer, who were not at all spooked by our presence. We also saw evidence of the
fire
which swept the island 2 years ago.