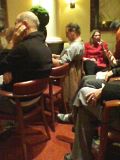 Last night at the
Salon at the Rex
, I heard
Sarah Cahill
perform a recital of modern piano music organized around the theme of mysticism. In Ms. Cahill's spoken introductions to each work, we learned that Erik Satie, Alexander Scriabin, Dane Rudhyar & Ruth Crawford each had an active interest in mysticism of some sort, be it Rosecrucianism, Theosophy, astrology or American Transcendentalism. Ms. Cahill chose pieces with similar landscapes. Musical events, without meter or melody, float around an unstructured space. The Rudhyar & Crawford pieces favor dissonant tone clusters, which these composers associate with spirituality. Perhaps this is classical music's New Age music.
A different type of mysticism was represented by 2 pieces that the medium Rosemary Brown penned by channeling the spirits of Chopin & Schubert. Ms. Cahill described them as "interesting to listen to at least once," & they do manifest the musical tics of their putative authors.
Ms. Cahill performed on a baby grand that sounded very dry. Her playing is calm & unhurried. She strokes the keyboard & does not pound it. All the pieces on the program had a similar not-too-fast, not-too-slow tempo. Since the pieces are unmoored from classical structures, I left the recital feeling unsettled. The music invoked a state between wakefulness & sleep in the person next to me, who dozed off during Rudhyar's
Stars
.
As is the custom at these salon events, Ms. Cahill took questions from the audience at the end. There was not complete agreement on what might be considered "mysticism" in music, & a lady in the audience claimed not to experience this music as dissonant at all.
§ Salons at the Hotel Rex
Sarah Cahill, piano

The Mystical Tone

SATIE: Sonnerie de la Rose + Croix No. 2
SCRIABIN: Five Preludes, Op. 74
DANE RUDHYAR: Stars (from Third Pentagram); Granites
ROSEMARY BROWN/CHOPIN: Nocturne in A-flat
SCRIABIN: Vers la flamme
ROSEMARY BROWN/SCHUBERT: Moment Musical
RUTH CRAWFORD: Preludes #4, 7, and 9

Wednesday, November 17
6:30pm
Hotel Rex