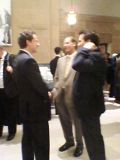 On Friday night I attended the
Philharmonia Baroque
concert at Herbst Theatre
featuring Vivaldi's

The Four Seasons
. The 4 concertos, straddling the intermission & bracketed by instrumental suites, formed the core of the program. Soloist
Elizabeth Blumenstock
's playing was fleet & without much bite. She used music, which I thought compromised her virtuosity, but she was confident enough to ornament some of her lines & flirt a little with the music. The performance had many picturesque details, such as the humorously abrupt cut-off for the violin in the 1st movement of
Summer
. The orchestra played sul ponticello at the beginning of Winter & seemed to imitate the score to
Psycho
. There were some strange notes at the beginning of
Autumn
, as if the soloist had lost her place.
The rest of the program was filled out with chamber suites using the same forces as the Vivaldi concertos. The orchestra plays with an energetic cheeriness, & there is a lot of bobbing up & down. Conductor
Nicholas McGegan
looks the happiest of them all. I liked his lively gestures of twirling, stirring, tossing & even slapping the orchestra. The opening Corelli
Concerto Grosso
was stately yet lilting. The elegant Pergolesi
Sinfonia
sounded very much like the composer's
Stabat Mater
, the only other piece of his I know. The Zavateri
Pastorale
, with its 2 solo violins & its depiction of a rural idyll, seemed to continue on from
The Four Seasons
. Maestro McGegan turned to the audience & quoted Monty Python's "And now for something completely different" before ripping into the fierce Durante
Concerto
. On the final chord, he swiveled so forcefully that his shoe squeaked loudly.
I'm far from sold on historically informed performances, which I still consider to be experimental. This performance had intermittently wayward intonation, & I wondered whether it was worth it to use the theorbo as a continuo instrument. Though majestic in appearance, its contribution to the overall sound is feeble.
This concert was well-attended. I came with a group of friends with poor time management skills, & we took our seats just as Maestro McGegan stepped onto the podium. He may have noted the commotion & paused briefly before starting.
§ Philharmonia Baroque
Nicholas McGegan, conductor
Elizabeth Blumenstock, violin

CORELLI: Concerto grosso Op. 6, No. 11 in B-flat major
PERGOLESI: Sinfonia in F major
VIVALDI: Le quattro stagioni (The Four Seasons)
ZAVATERI: Concerto in D major "a Pastorale," Op. 1, No. 10
DURANTE: Concerto No. 5 in A major

Friday, November 5, 8:00 pm
Herbst Theatre