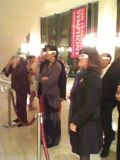 On Saturday evening I was at my first
SF Symphony
concert of the season. The program began with Mendelssohn's
Fingal's Cave
Overture, which conductor
Pablo Heras-Casado
led from memory & without a baton. Pianist
Alice Sara Ott
sounded more perky than virtuosic in the Liszt Piano Concert No. 1. She was sensitive to her overall context, more in the manner of a chamber musician than a concerto soloist. She received an immediately standing ovation & played a pretty version of
Für Elise
as an encore. The delighted audience applauded as soon as they recognized the first notes.
With the stage set for György Kurtág's
Grabstein für Stephan
, it looked like some horrible event had decimated the orchestra. The strings were represented by 3 violas, 3 cellos & a bass grouped at the right edge of the stage. There was a full complement of percussion & brass, but only 1 oboe & 2 clarinets. The piece starts with the open strings of a guitar, then gradually builds to a piercing climax that adds a police whistle to the mix. It then drifts back down to the strumming guitar & closes with a single, very quiet note from the horn, so that the piece does not feel quite symmetrical. Despite the odd instrumentation, it did not seem like a competition between timbres. Maestro Heras-Casado held up the score when he took his bow. Since the piece was relatively short & very compressed, I almost wished that there were time to hear it again.
The program ended with a lot of musicians on stage for the Shostakovich 12. I liked bassoonist
Stephen Paulson
's incisive & pointed playing in the 1st movement & his plaintive solo in the 2nd. I also like the other soft & long-lined flute & clarinet solos in the slow movement. The final 2 movements were loud & shrill. The performance met with great approval. Many in the audience stood & cheered.
§ Alice Sara Ott plays Liszt
San Francisco Symphony
Pablo Heras-Casado, conductor
Alice Sara Ott, piano

Mendelssohn: Fingal's Cave Overture
Liszt: Piano Concerto No. 1
György Kurtág: Grabstein für Stephan
Shostakovich: Symphony No. 12, The Year 1917

Sat, Oct 30, 2010 8:00pm
Davies Symphony Hall