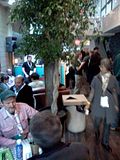 The
55th San Francisco International Film Festival
finished up last night. Though I did not make it to some of the bigger events, my festival experience looked like this:
Films: 14
Q & A's: 9
Times I had a free seat next to me: 1
Ballots submitted: 10
Parties: 2
Happy hours beers: 3
Complimentary glasses of red wine: 2
Tweets: 21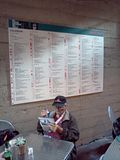 The multiple lines at the Kabuki could be confusing, & I always had to ask someone if I was in the right place. I was impressed by the unfailingly patient & appreciative audiences. It may be that all those volunteers in yellow t-shirts were really running the festival. And of course even that guy behind the bar in the festival lounge turned out to be a
film
producer.