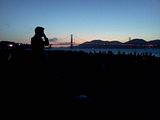 The Golden Gate Bridge 75th Anniversary celebration of course ended with a big fireworks show Sunday night. I viewed it from Crissy Field, along with thousands of others. A row of photographers had staked out spots at the shoreline. Miraculously, we had no fog or clouds.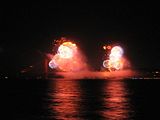 At 9:29p, all the lights on the bridge went out. After a minute or so of darkness, 2 lines of showering sparks started from each end of the span & met in the middle, turning the bridge into a waterfall of glittering light. Most of the fireworks seemed to be launched from a slow-moving barge near the Marin side, but the coolest effects used the bridge. Sparklers dropped from the bridge in layers, & fan-shaped fireworks sprang up from the span.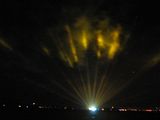 Dancing searchlights were part of the spectacle, & we even heard a few blasts on the bridge's foghorns. The show was set to music, & fireworks forming the outline of a red heart illustrated "I Left my Heart in San Francisco."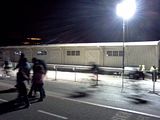 After the event, the crowd moved quickly out of the Presidio. I saw a lot of people on bikes. The blinding Klieg lights were obnoxious & did not help me notice the curb, which I stumbled on.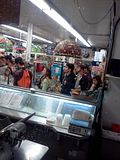 Once I was back in the Marina neighborhood, the line at United Liquor indicated that the party went on.