Thursday night I saw the documentary
Chasing Ice
at one of the last programs of the
55th SF International Film Festival
. The film follows nature photographer
James Balog
, founder of the
Extreme Ice Survey
, which focuses time-lapse cameras on glaciers for years at a time. Placing the cameras & then retrieving their pictures requires death-defying climbs, & the resulting footage records a deflating glacial landscape. We also see mesmerizing film of huge glaciers breaking apart, a process that is both destructive and majestic. The size of these events is hard to grasp, even when a picture of lower Manhattan is superimposed over a glacier to provide scale.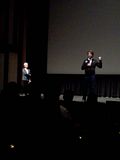 The film is a work of advocacy & features Mr. Balog as spokesman, raising awareness of the immediacy of global climate change. He played that role at this screening, confidently fielding questions from the audience afterward. It was surprising to hear him call
Walmart
a "green" company, but I agreed when he said that science & art make a good collaboration. One woman was anxious to tell us that no one ever mentions the consumption of meat as an environmental problem, & another accused Mr. Balog of "seducing people away from political activism."
Festival programmer
Sean Uyehara
introduced the event & acknowledged the festival's army of ubiquitous volunteers. He rightly described them as the face of the festival.
§ Chasing Ice
director, Jeff Orlowski
USA, 2012, 74 min

55th San Francisco International Film Festival
Thu, May 3 7:15 / Kabuki