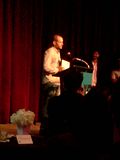 Winners of the Golden Gate Awards
were announced at a private event at
Rasselas
on Wednesday night. These awards are presented at the
San Francisco International Film Festival
for shorts, new directors & feature documentaries & have cash prizes up to $20,000. The organizers were keen to move quickly, herding people into seats at precisely 8:15p. Filmmaker
Barry Jenkins
emceed & joked that he was chosen because the host should be "bald, slim & suave." Various jurors announced the winners, but only a few of the recipients were in attendance. I enjoyed the title of a prize-winning short called
Workers Leaving the Googleplex
, even though I hadn't seen the film.
I did see
The Waiting Room
& was happy it got the Bay Area Documentary Feature award. Director
Peter Nicks
was there, & he was patient when I buttonholed him & asked him all the questions I had while watching his film. I was amazed to learn that almost half the footage really was shot on one day.
Though a friend warned me against it, I did try one of the chicken drumettes on offer. They were indeed too spicy.
§ 55th San Francisco International Film Festival Winners

§ Golden Gate Award Documentary Feature Winners
Documentary Feature: It's the Earth Not the Moon, Gonçalo Tocha (Portugal 2011)
Honorable Mention: Meanwhile in Mamelodi, Benjamin Kahlmeyer (Germany/South Africa 2011)
Bay Area Documentary Feature: The Waiting Room, Peter Nicks (USA 2011)

§ New Directors Prize: Policeman, Nadav Lapid (Israel 2011)
Honorable Mention: OK, Enough, Goodbye., Rania Attieh, Daniel Garcia (Lebanon/UAE 2010)

§ FIPRESCI Prize: The Exchange, Eran Kolirin (Israel/Germany 2011)

§ Golden Gate Award Short Film Winners
Narrative Short: Surveillant, Yan Giroux (Canada 2011)
Documentary Short: I'm Never Afraid!, Willem Baptist (Netherlands 2011)
Animated Short: Belly, Julia Pott (England 2011)
Bay Area Short, First Prize: Aquadettes, Zackary Canepari, Drea Cooper (USA 2011)
Bay Area Short, Second Prize: Workers Leaving the Googleplex, Andrew Norman Wilson (USA 2011)
New Visions: 20Hz, Ruth Jarman, Joseph Gerhardt (England 2011)
Family Film: The Storyteller, Nandita Jain (England 2011)
Family Film Honorable Mention: The Vacuum Kid, Katie Mahalic (USA 2011)
Youth Work: Metro, Eric Brownrout, Nick Escobar (USA 2011)
Youth Work Honorable Mention: Life as a Collage, Forrest Penrod (USA 2011)