Last month someone told me about the
How Weird Street Fair
, accurately describing it as a congregation of artsy,
Burning Man
types. On Sunday afternoon it spread out in 4 directions from the intersection of Howard & 2nd. It was the attendees themselves that supplied the weird, a good proportion of them showing up in impressively elaborate & well thought-out costumes. & if you didn't arrive in costume, there were plenty of funky clothing vendors to help make you look interesting.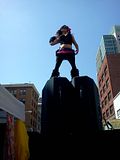 I might have lingered, but huge speakers surrounding the fair blasted the streets with a powerful electronic thumping that sounded like an earthquake, amplified. It rattled my internal organs & deafened me, though it did inspire primal dancing in others. The $10 donation seemed excessive, as did the security screening, since the crowd was very well-behaved despite the party-like atmosphere. As I waited to enter, someone handed me a free sample of chocolate milk & another person offered me a skinny can of lite beer.

§ How Weird 2012
Sunday May 13th from Noon to 8pm
Howard & 2nd Streets, Downtown San Francisco