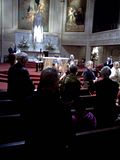 Musicians of the
Midsummer Mozart Festival
led by
George Cleve
played a short but satisfying
Noontime Concert
at Old St. Mary's yesterday.
Maria Tamburrin
was soloist for Mozart's Andante in C for Flute & Orchestra. Her playing was assured, & she added ornamentation & a brief cadenza. A chamber orchestra of 9 accompanied her elegantly. 8 musicians then performed Mozart's Divertimento for Oboe and Strings. The music went at a graceful pace & felt buoyant without being bouncy. Oboist
Laura Griffiths
gave a nicely smooth articulation to her solos. 1st violin
Robin Hansen
played spryly in the Menuetto. Maestro Cleve has an easy manner & gave clear, anticipatory cues. The gentleman seated in the pew in front of me clearly enjoyed the performance, frequently tapping his foot to the music. The audience responded with warm applause, as if we were all old friends of the musicians, & several people stood. An elderly gentleman presented tiny potted plants to the orchestra. Maestro Cleve genially addressed the audience before each piece & listed the programs for his up-coming
Midsummer Mozart Festival
concerts.
§ Noontime Concerts
Members of the Midsummer Mozart Festival Orchestra
George Cleve, conductor

Wolfgang Amadeus Mozart: Andante in C for Flute and Orchestra, K.315
Flute Solo: Maria Tamburrino

Wolfgang Amadeus Mozart: Divertimento for Oboe and Strings, K.251
Oboe Solo: Laura Griffiths

Tuesday, May 22nd, 2012 - 12:30 p.m.
Old St. Mary's Cathedral