The masses are expected today at the Golden Gate Bridge 75th Anniversary festivities taking place today from the Marina Green to Fort Point. Yesterday I walked through the area for some iconic views without the crowds. The purpose of the celebrations seems to be to distract people from crossing the bridge this weekend.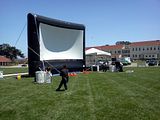 The windy weather was already causing problems for an inflatable movie screen being set up in the Presidio for an outdoor showing of It Came from Beneath the Sea.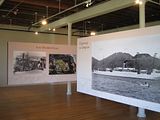 A nearby barrack currently houses a generic but informative exhibit about the bay before the bridge. I learned that there are 57 licensed bar pilots who each make an average of $450,000 a year guiding ships through the bay.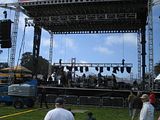 Big tents & a stage were being set up on Crissy Field. I watched raise a lighting truss & heard a band do their sound check.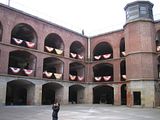 Fort Point is open for visitors, & 16 artists have been invited to install their works throughout the building. I got there too close to closing time & park rangers kicked me out before I had a chance to visit all 3 floors, but the art will be there through October.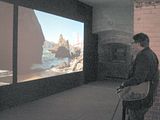 I hope they can keep Doug Hall's 2-screen video installation operational. The images majestically convey the scale of the bridge, the shipping traffic that passes beneath it & the life surrounding it.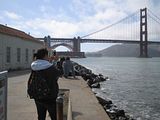 It's been a bit cloudy today, but I'm hoping it clears up for the fireworks tonight. I plan to tramp out there again for the 9:30p spectacle.