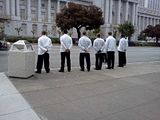 The audience at Saturday night's
concert
by the
New Century Chamber Orchestra
seemed unusually well-heeled, & there was a row of valet parkers in front of Herbst Theatre. NCCO are an extroverted ensemble, & since there is no conductor the musicians constantly watch each other. They played Grieg's
Holberg Suite
with forward-moving tempos. In the
Sarabande
, it was nice to hear bass player
Anthony Manzo
's round, plump sound & cellist
Susan Babini
's taut yet expansive playing.
The premiere of
Ellen Zwilich
's
Commedia dell'Arte
, a bright concerto for violin, was preceded by a video in which Ms. Zwilich &
Nadja Salerno-Sonnenberg
describe the Commedia dell'Arte characters which inspired it. The piece is cute. Each movement prominently features a different percussion instrument. A violist plays the slap in the 1st movement, against the solo violin's short, fast phrases. In the 2nd movement, cellist
Michelle Djokic
elegantly shook & tapped her tambourine while the soloist played long, high lines & imitated the twittering of a bird. Concert master
Dawn Harms
hammed it up on the toy drum in the 3rd movement, which has a swaggering motion. The 4th movement opens with a cadenza reprising previous themes & is a non-stop run. Ms. Salerno-Sonnenberg played alertly & definitely acted as both conductor & soloist. She rocked her hips as much as she played the violin. Ms. Zwilich was in the audience & came on stage, still carrying her purse, to take a bow with the performers.
The beginning of the 2nd half was delayed while Ms. Salerno-Sonnenberg & the orchestra waited for someone seated near the stage to silence their mobile phone. The musicians were focused throughout Schoenberg's
Verklärte Nacht
. I liked the deep rumbling tremolos of the cellos & bass.
Candace Guirao
played a calmly controlled viola solo, & Ms. Babini's cello solos had an expectant feel. A series of accented chords evoked repeated grasping. The orchestra remained motionless at the end, & there was a long silence from the audience. It was a bit odd to follow this with comedic variations on "Happy Birthday," but the orchestra was having fun, & the parodies of Beethoven, Brahms, Hollywood film music & ragtime were especially convincing.
To close, Ms. Salerno-Sonnenberg read a prepared speech acknowledging out-going NCCO President
Paula Gambs
in most appreciative terms. Three more musicians joined the orchestra for the solemn
Nimrod
from Elgar's
Enigma Variations
, played in honor of Ms. Gambs. Ms. Gambs was then asked to come on stage where she was made an honorary member of
Musicians Union Local Six
& received a proclamation from the mayor's office. Ms. Gambs joked that she was available to play the finger cymbals.
§ New Century Chamber Orchestra
Nadja Salerno-Sonnenberg, Music Director

Edvard Grieg: Holberg Suite
Ellen Zwilich: Commedia dell'Arte (World Premiere Commission)
Nadja Salerno-Sonnenberg, violin
Arnold Schoenberg: Verklärte Nacht
Peter Heidrich: Happy Birthday Variations

Encore:
Edward Elgar: "Nimrod" from Variations on an Original Theme for orchestra ("Enigma"), Op. 36

Saturday, May 12, 2012, 8pm
Herbst Theatre, San Francisco