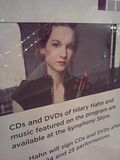 Friday night's
program
at the
San Francisco Symphony
, led by
Osmo Vänskä
, began with a big orchestra on stage for
Minea
by Finnish composer Kalevi Aho. The 20 minute tone poem began with a startling burst from the percussion & brass & continued loudly. In the 1st half something made a whooshing, surf-like sound, & a percussionist made a sound by dropping a heavy chain. The contrabassoon had a prominent solo, & I liked
William Bennett
's twisty oboe solo, played with a dense tone. The 2nd half was a continuous crescendo led by drumming from the percussion section, which included bongos. The orchestra played blazingly throughout. I noticed a couple of violinists with earplugs. The audience cheered for the noisy finale, & some people stood.
Violinist
Hilary Hahn
was soloist for Prokofiev's 1st Violin Concerto. She has a cool demeanor & sounded consistently graceful & pretty, even when tackling aggressive passages. In the 2nd movement she made a striking effect with her truly glassy ponticello tone. The concerto's unusual soft ending was controlled & airy, & the audience responded with a standing ovation. Ms. Hahn gave us an encore by
Tina Davidson
, which begins with the violinist making sounds by pressing down forcefully on the strings with just the left fingers. The piece was lovely, & its use of multiple voices evoked Bach. When Ms. Hahn returned for another bow, she told us, "I got permission to play one more" & gave us a fluid & ringing movement from Bach which complemented the Davidson piece nicely.
After intermission, Maestro Vänskä led a brilliant Shostakovich 6. He does a lot of knee bends & cues everything. His left hand is often up in the air. I agreed with a friend who described the sound Maestro Vänskä got as "bright & sparkly." The drawn-out 1st movement maintained tension, &
Timothy Day
's flute solos were intense & forlorn. The following shorter movements had a manic energy. Concertmaster
Alexander Barantschik
dug in for his 3rd movement solo & sounded very Russian. The evening's final seconds were like a train about to run off the rails, both frightening & thrilling. The audience coughed demonstratively between movements & gave the concert a rousing standing ovation. After the performance, I saw Ms. Hahn signing CDs in the lobby.
§ Hilary Hahn plays Prokofiev
San Francisco Symphony
Osmo Vänskä, conductor
Hilary Hahn, violin

Kalevi Aho: Minea
Prokofiev: Violin Concerto No.1
Shostakovich: Symphony No. 6

Encores:
Tina Davidson: Blue Curve of the Earth
Bach: Allegro from Sonata No. 2 in a minor, BWV 1003

Fri, May 25, 2012 8:00pm
Davies Symphony Hall