Wednesday morning the Asian Art Museum held a media preview for its Phantoms of Asia exhibit, a large show featuring contemporary works by 31 artists. The event began at the giant red lotus in Civic Center Plaza, where about a dozen of the artists posed for their class picture.
We were instructed to stand by for an address by Mayor Ed Lee, who arrived after a chilly, half-hour wait. He was proceeded by a fellow making his way leisurely through the plaza while expressing his political discontent into a megaphone.
Back inside the museum, curator Mami Kataoka led a tour of exhibit, with the artists themselves each speaking a few words in front of their own pieces.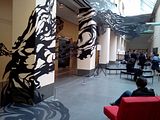 There are over 60 works, including paintings, sculptures, photographs, installations & videos. Many of the works have a strong conceptual element that is present but unseen. Sun K. Kwak's installation of a filigree of black masking tape might trace the North Court's qi.
The curator has purposefully interspersed these contemporary works among the museum's traditional objects on all 3 floors, so that a walk through the show is also a tour of the comprehensive permanent collection.
§ Phantoms of Asia: Contemporary Awakens the Past
Asian Art Museum
May 18–September 2, 2012