Photo credit: Kristen Loken
Thursday night I saw
Merola Opera
's production of Benjamin Britten's
The Rape of Lucretia
. The opera was staged as a contemporary military inquest, with all the characters assembled in a court room. There were no scene breaks, & the singers were onstage throughout, both witnessing & enacting the events of the story. The rape scene was staged symbolically, Tarquinius throwing papers into the air & overturning furniture.
The evening was taut. Everyone gave firm singing & acting perfomances & maintained a determinedly serious mood. As the chorus, tenor
Robert Watson
& soprano
Linda Barnett
were implacably stern. Mezzo
Kate Allen
sang Lucretia with a full, matronly voice that was also a bit warbling. Mezzo
Katie Hannigan
was a consistent & mature-sounding Bianca. Soprano
Alisa Jordheim
as Lucia sounded contrastingly high & youthful. The vocalise between the female voices in act I was lovely. Baritone
Chris Carr
was smooth-sounding & even suave as Tarquinius. I especially liked baritone
Efraín Solís
as Junius in the scene where he connivingly insinuated reasons to rape Lucretia. Bass-baritone
David Weigel
had a deep, resonant voice that communicated gravity.
I'd actually never heard this opera before. There are many beautiful passages, & it has an inexorable, ritual-like atmosphere. The concluding invocation to Jesus, however, seems unprepared for. It certainly did not comfort Mr. Weigel's Collatinus, who stared at the audience in horrified anguish at the end.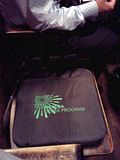 The performance took place in the Everett Middle School auditorium, where the voices rang out nicely. There is no pit, so the chamber orchestra of 13 was on the floor in front of the stage. They probably sounded too prominent, but I liked their playing so much that I did not mind. It was nice to hear orchestral details, such as the double bass slides, so vividly. The school's aging, unupholstered seats were uncomfortable, even though Merola furnished them with branded seat cushions. The performance was well-attended, & the audience was attentive & focussed. The singers received appreciative applause & a partial standing ovation.
§ The Rape of Lucretia
By Benjamin Britten with libretto by Ronald Duncan
Merola Opera Program 2013
Conductor - Mark Morash
Director - Peter Kazaras
Male Chorus - Robert Watson
Female Chorus - Linda Barnett
Collatinus - David Weigel
Junius - Efraín Solís
Tarquinius - Chris Carr
Lucretia - Kate Allen
Bianca - Katie Hannigan
Lucia - Alisa Jordheim
Thursday, July 11,7:30 PM
Everett Auditorium