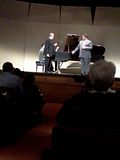 Wednesday night
Merola Opera
presented a master class by American tenor
Neil Shicoff
. Mr. Shicoff spent at least half an hour each with 4 Merolini, & he talked to the audience as much as to the singers. At the start he explained that he has a very particular sound he wants to get, which he likened to a long, vertical tube. His approach was the same for everyone. He reiterated his ideal voice placement & stopped singers whenever they deviated, often at the very first note. He told students to "think down" on high notes & pressed on their belts as they sang. Mr. Shicoff was picky & exasperated the performers at times, though he got incremental changes in everyone. He referred to all the Merolini as "kids."
Mr. Shicoff weirdly asked tenor
Matthew Newlin
to start with a few bars of the portrait aria from the
Magic Flute
then immediately switch to the coloratura section of "Ecco, ridente" from the
Barber of Seville
. The goal was to get Mr. Newlin to use the same voice for each. Baritone
Alex DeSocio
has a roomy, open voice, & Mr. Shicoff worked to get it more grounded & focused. He praised bass-baritone
John Arnold
for adjusting quickly & made his performance more lively by directing him to "sex it up!" Mr. Shicoff declared, "I love you!" to tenor
Pene Pati
& exhorted him to "use your fear." Because Mr. Pati's high notes are already so beautiful, Mr. Shicoff worked on getting the notes in his passaggio to sound as good. Mr. Pati is already a Merola audience favorite.
The event was a
benefit
for the Merola Opera & included a reception afterward. The audience was attentive throughout an intermissionless 2 hours.
§ Neil Shicoff Benefit Master Class
Merola Opera Program 2013
Wednesday, July 10, 7:00 PM
Nourse Theatre

"Dies Bildnis ist bezaubernd schön" from Die Zauberflöte by Wolfgang Amadeus Mozart
and
"Ecco, ridente in cielo" from Il barbiere di Siviglia by Gioachino Rossini
Matthew Newlin, tenor
Michael Shannon, piano

"Felice ancor io son - Per me giunto" from Don Carlos by Giuseppe Verdi
Alex DeSocio, baritone
Sahar Nouri, piano

"Se vuol ballare" from Le nozze di Figaro by Wolfgang Amadeus Mozart
John Arnold, bass-baritone
Michael Shannon, piano

"Ella mi fu rapita" from Rigoletto by Giuseppe Verdi
Pene Pati, tenor
Timothy Cheung, piano