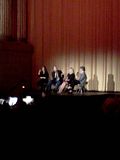 The Harold Lloyd classic
Safety Last!
was the final show of the
SF Silent Film Festiva
l on Sunday night, & it was great to see it with the joyful festival audience. Once again I saw no empty seats. I asked the lady next to me how she got interested in silent movies, & she replied, "I like to time travel." Operations Director
Lucia Pier
introduced the event, & there was a drawing for the raffle prize from
McRoskey Mattress
. Artistic Director
Anita Monga
then interviewed visual effects expert
Craig Barron
&
Susanne Lloyd
, Harold Lloyd's granddaughter. Mr. Barron referred to a video demonstrating
how the clock scene was shot
& admitted that the movie would be digitally projected at 24 FPS, which is just a tiny bit faster than it should be. We saw a beautifully crisp version from
Critereon
.
The atmosphere was terrifically fun. The audience laughed long & loud during the climbing sequence & applauded the moment when Harold Lloyd dangles from the clock. 2 ladies in the row behind me were actually screaming with laughter. The
Mont Alto Motion Picture Orchestra
sounded consistently buoyant & elegant. Their original score of pleasant salon music was fitting & unobtrusive. They were sometimes drowned out by the audience's roaring laughter.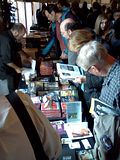 A book store &
book signings
were on the mezzanine throughout the festival, but every time I went up there it was too crowded to get a good look at anything. The festival hands out a substantial program book with excellent essays, also available
online
, about all the films. Next year's festival has been moved up to late May.

§ Safety Last!
USA, 1923, 70 mins. • Directors Sam Taylor, Fred Newmeyer
Musical Accompaniment by Mont Alto Motion Picture Orchestra

2013 San Francisco Silent Film Festival
Sunday, July 21 at 8:30 pm
Castro Theatre