Saturday afternoon the
SF Silent Film Festival
presented
Legong: Dance of the Virgins
, a silent film shot in 2-color technicolor in Bali in 1933. The native cast enacts a thin story of tragic love, but really the film is a gorgeous travelogue, including depictions of lush scenery, village markets, cock fights & traditional dances. I found the sight of 2 toddlers smoking cigarettes somewhat startling. A ritual suicide dance is particularly intense, & the film ends with a spectacular cremation ceremony.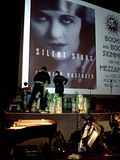 The film was accompanied by the
Club Foot Orchestra
, consisting of 4 strings, clarinet & trumpet, plus at least 15 members of
Gamelan Sekar Jaya
, who sat on stage in front of the screen. The textures of the 2 ensembles complemented each other. The music was entrancing & followed the movie closely. Richard Marriott conducted, & the musicians received a noisy & prolonged standing ovation. Afterwards, attendees who had been to Bali told me that it still looks very much as it does in the movie.
§ Legong: Dance of the Virgins
Bali, 1935 • Director Henri de la Falaise, 65 mins.
Musical accompaniment Gamelan Sekar Jaya and the Club Foot Orchestra
2013 SF Silent Film Festival
Saturday, July 20, 2013, 2:15pm
Castro Theatre