Sunday afternoon the Castro Theatre was full up for the premiere at the
SF Silent Film Festival
of the
restoration
of
The Last Edition
, a 1925 crime drama filmed in San Francisco & containing views of the old Chronicle Building at Market & Kearny & scenes of The Chronicle's offices & printing presses. The event started 20 minutes late, & there was a feeling of anticipation. We saw the original trailer, & then film restorer
Robert Byrne
introduced the film. He told us of his astonishment when he 1st viewed it & saw shots of Market Street. He also told us to look for a cameo of San Francisco Chief of Police Daniel J. O'Brien, as well as publicity stills of his son, actor George O'Brien.
The Last Edition
is not a good film, but the festival audience got into the sprit of it anyway, applauding an expansive shot of our City Hall & cheering for the last-minute capture of the villians.
Stephen Horne
was a vigorous accompanist, playing piano, accordion & flute, & occasionally strumming the piano strings directly. He incorporated a period song called "San Francisco Bound" & played thunderously during the gratuitous fiery climax. His excellent playing enhanced the film.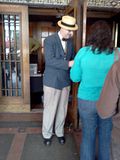 During the big chase scene, an intertitle appeared backward. The film was stopped. & the audience immediately became restless. Mr. Horne continued improvising, starting with
Für Elise
. For a while the audience clapped along as he played another tune. The film resumed past where it had stopped, so I suspect we missed some exciting moments. My movie companion thought they should have just let the film run until the end of the reel, since we could probably follow the action regardless.
§ The Last Edition
USA, 1925, 105 mins. • Director Emory Johnson
Musical accompaniment by Stephen Horne
2013 San Francisco Silent Film Festivalc
Sunday, July 21 at 3:30 pm
Castro Theatre