I ended my marathon Saturday at the
SF Silent Film Festival
with the evening's screening of
The Joyless Street
, an aptly titled film by G.W. Pabst about the relentlessly grim lives of the denizens of a Vienna neighborhood after World War I. It's a dreary & grotesque world of poverty, stock market scams, sexual exploitation, murder, degredation & starvation. Following all the characters & subplots takes some work. Asta Nielsen & Greta Garbo play young women trying to stay afloat. They both give psychological performances. Nielsen often seems to be in a trance-like state, & Garbo becomes so detached she seems like a non-human creature. Interestingly, she plays the more virtuous of the 2 women.
The 4 member
Matti Bye Ensemble
accompanied, playing piano, violin, cello, guitar, keyboard & percussion. Their original score was quiet, eerie & minimalistic. It had an appropriately dark mood but did not always match the action.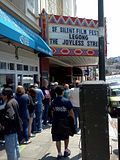 I saw no empty seats at the show, & the audience was impressively still for the movie's bleak 2-and-a-half hour duration. Artistic Director
Anita Monga
introduced the film. We learned that it was banned & then released in censored versions that sometimes changed the story. Only 5 of its original 200 intertitles have survived. We saw a reconstruction from the
Filmmuseum München
that is still missing a half hour. Some of the footage is in poor condition, & there are continuity gaps toward the end.
§ The Joyless Street (Die freudlose Gasse)
Germany, 1925, 150 mins. • Director G.W. Pabst
Musical Accompaniment by the Matti Bye Ensemble
2013 SF Silent Film Festival
Saturday, July 20, 2013, 8:30p
Castro Theatre