I had so much fun seeing
The Hard Nut
at
Cal Performances
over the weekend. This is the justly popular
Mark Morris
version of
The Nutcracker
ballet. The 1st act party scene takes place in the 1960s & is a slapstick comedy all by itself. It's not possible to follow all the on-stage shenanigans.
John Heginbotham
as Mrs. Stahlbaum is a convincing matron, & he brilliantly cheated the audienced out of a pirouette at the start of the act.
Kraig Patterson
is a great comic performer as the harried housekeeper & even dances on his toes.
June Omura
is entirely believable as the spoiled little brother. The show's fact sheet says she is 48!
Mark Morris
himself portrays the paunchy Mr. Stahlbaum. For the Waltz of the Snowflakes, the dancers create a dazzling snow storm by tossing handfuls of glittering confetti as they leap. The spectacle is worth the price of admission & had the audience cheering.
Act II tells a separate story about a round-the-world search for the hard nut that will undo a princess's unfortunate disfigurement. The national dances appear in weirdly satirical versions, such as an Arabian dance featuring a highly suspect figure in a burqa. The Waltz of the Flowers is another highlight. It's cheeky, unclassical & rude, yet also beautiful. At times it reminded me of a synchronized swimming routine.
The large sets by comic book illustrator
Charles Burns
are distinctive & creepy & do not feel at odds with Tchaikovsky's often sinister score. The
Berkeley Symphony
, led by
George Cleve
, sounded great. There were nice woodwind solos, & the orchestra had a velvety texture. The music flowed soothingly. I loved hearing the
Piedmont East Bay Children's Choir
sing from the stage.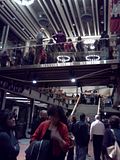 The performance received an enthusiastic ovation & cheers. The dancers looked like they enjoyed the show as much as the audience. I did not see many children, though a father & his young son sat behind me & giggled frequently, especially at the unisex corps de ballet in the Waltz of the Snowflakes & the Waltz of the Flowers.
§ The Hard Nut
Mark Morris Dance Group

Music by Tchaikovsky (The Nutcracker)
Choreography by Mark Morris
Production based on the work of Charles Burns

Berkeley Symphony Orchestra
George Cleve, conductor

Piedmont East Bay Children's Choir
Robert Geary, artistic director

Marie: Lauren Grant
Fritz: June Omura
Louise/Princess Pirlipat: Jenn Weddel
Dr. Stahlbaum/King: Mark Morris
Mrs. Stahlbaum/Queen: John Heginbotham
Housekeeper/Nurse: Kraig Patterson
Drosselmeier: Billy Smith
Nutcracker/Young Drosselmeier: Aaron Loux
Barbie Doll: Chelsea Lynn Acree
Robot: Spencer Ramirez

Sat, Dec 15, 8 pm
Cal Performances, Berkeley
Zellerbach Hall