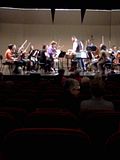 Monday morning I heard an open rehearsal for
this week's concerts
by the
New Century Chamber Orchestra
. They worked on Vivaldi's
4 Seasons
. Each movement features a different violinist of the orchestra as soloist, with music director
Nadja Salerno-Sonnenberg
in the 1st & last spots.
Dawn Harms
was virtuosic in the 1st movement of
Summer
, & she joked around with her stance when Ms. Salerno-Sonnenberg admonished her not to face the cellos during her solo.
Candace Guirao
was capricious in the 1st movement of
Autumn
, playing with a lot of contrasts.
Iris Stone
played the slow movement of
Winter
deamily, & Ms. Salerno-Sonnenberg called out a "bravo" to
Karen Sor
's strongly grounded 3rd movement of
Summer
. Each musician simply stands up for her solo turn, so
Jennifer Cho
, playing the Adagio from
Summer
from the back of the stage, expressed concern that she could not hear the rest of the orchestra.
This was a working rehearsal, & the musicians engaged in discussion after each movement. They do not hesitate to make suggestions or request cues, & the atmosphere is supportive. Changes occur incrementally. It was interesting to see them decide on using a single viola for the slow movement of
Winter
through a process of negotiation rather than fiat, after Ms. Salerno-Sonnenberg warned the violas not to sound like chihuahuas.
Liza Zurlinden
had a very detailed list of notes for the ensemble for the last movement of
Autumn
, including the use of col legno.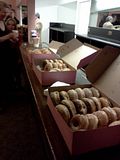 The mid-morning audience was sparse but engaged, & they applauded each of the soloists. During the break complimentary coffee & donuts were served. This rehearsal covered all of the Vivaldi, but the complete program includes Handel's
Entrance of the Queen of Sheba
& contemporary works by
Clarice Assad
&
Lera Auerbach
.
§ New Century Chamber Orchestra
Nadja Salerno-Sonnenberg, Music Director
Open Rehearsal for Soloists of New Century
Antonio Vivaldi (1678-1741)
Le Quattro Staggioni, Op. 8, nos. 1-4
(The Four Seasons)
La Primavera (Spring), RV 269 in E major
I. Allegro Nadja Salerno-Sonnenberg, Violin
II. Largo Hrabba Atladottir, Violin
III. Allegro Anna Presler, Violin
L'Estate (Summer), RV 315 in G minor
I. Allegro non molto Dawn Harms, Violin
II. Adagio Jennifer Cho, Violin
III. Presto Karen Sor, Violin
L'Autunno (Autumn), RV 293 in F major
I. Allegro Candace Guirao, Violin
II. Adagio Molto tutti violins
III. Allegro Liza Zurlinden, Violin
L'Inverno (Winter), RV 297 in F minor
I. Allegro non molto Robin Mayforth, Violin
II. Largo Iris Stone, Violin
III. Allegro Nadja Salerno-Sonnenberg, violin
Monday, December 10, 2012, 10am
Herbst Theatre, San Francisco