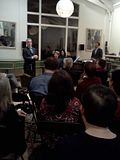 Over the weekend I got to hear baritone
Jesse Blumberg
in the intimate setting of a house concert, in an airy music room with a high timbered ceiling. The hour-long program consisted of 10 songs by composer
Ricky Ian Gordon
, who was present & accompanied on the piano. Mr. Gordon is a charmer. He introduced the pieces, shared stories, recited a poem by
Marie Howe
, & sang one selection. His music is pretty & sits somewhere between Broadway & classical. The songs often had a slow rocking motion. Some felt like lullabies. Mr. Blumberg's smooth, focused sound was easy to listen to. He gave us some lovely falsetto notes & presented the songs in a soothing manner. Even though I was at the back of the room, I felt like he was singing right to me.
The event was to promote the
West Coast premiere
of
Green Sneakers
at Fort Mason on February 13th. Mr. Gordon described it as an opera for baritone, string quartet & empty chair. He composed it specifically for Mr. Blumberg to perform. We heard the opera's quiet epilogue, which is also the only time when a piano that has been sitting on stage gets played. Mr. Gordon explained the work's personal roots in his grief at the loss of his partner from AIDS in 1996.
The performance had an audience of about 25 rapt music lovers. Drinks, light food, & Christmas desserts were available before and after. The atmosphere was very cordial, & I had a chance to chat with both performers. Mr. Gordon himself was one of the 1st people to greet me, & he told me we were in the house that Ansel Adams grew up in.
§ Green Sneakers
by Ricky Ian Gordon
West Coast Premiere
Jesse Blumberg, baritone
Del Sol Quartet
Southside Theater, Fort Mason, Bldg D
Tuesday, February 19, 7:00 p.m. (pre-concert talk); 7:30 p.m. (performance)