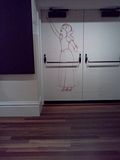 This
special exhibit
at the
Walt Disney Family Museum
commemorates the 75th anniversary of
Snow White & the 7 Dwarfs
. It's in a separate building, a short walk behind the museum's main building. The show includes posters, concept art, background paintings, animation ruffs, & cels. There are a few interactive kiosks & brief movie clips. All the artwork is beautifully executed, & much of it is exquisite.
I was surprised that so much archival material still exists, though it was not clear to me which pieces, if any, were actually photographed & appear in the final film. A museum staff member explained that while some of the cels in the exhibit are reproductions, cels mounted on a slanted, as opposed to vertical, surface are originals. Interestingly,
Courvoisier Galleries
in San Francisco began marketing cels from
Snow White
almost immediately after the film was released. Another staff member drew our attention to a poster featuring characters from the movie advertising a Swedish laundry detergent. He pointed out Happy, who delightedly handles one of Snow White's undergarments & winks at us.
§ Snow White and the Seven Dwarfs: The Creation of a Classic
The Walt Disney Family Museum
Novemb
er 15, 2012–April 14, 2013