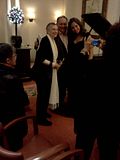 I really enjoyed the cozy atmosphere of soprano
Nadine Sierra
's
Salon at the Rex
. She sang a varied program in Italian, German, Russian, French & English that ran a little over an hour. Her voice is polished & even & slightly dusky & her communication warm & direct. She did a nice job making everything smooth & connected, starting with the Handel aria
Lascia ch'io pianga
, to which she added a few soft, discrete high notes. She sang selections from Strauss's
Lezte Blätter
with a strong focus. The fearful atmosphere of
Die Nacht
was powerful & suspended. Rachmaninov's
Six Romances
had a similar fullness of emotion. She was intense & anguished in
In My Garden at Night
& flirtatious & conniving in
The Rat Catcher
. The unsettling ending of
A-oo
lingered. She was an outgoing Juliette in 2 excerpts from Gounod's
Roméo et Juliette
, which she said is her favorite operatic version of the story. She ended the program with a song mocking
The 12 Days of Christmas
, written by Fred Silver, who was her vocal teacher when she was 10 years old.
Accompanist
Tamara Sanikidze
is a secure pianist. She is also an exuberant talker, though she was still overcome with the emotion of the Strauss when she began introducing the Rachmaninov songs, which she described as the most "out there" music he ever wrote. She was glad that we had no translations of the Russian in our programs, which would just get in the way of our emotional imaginations. She also explained that "A-oo" is a Russian forest call as well as a kind of primal scream.
The audience was cordial & applauded especially enthusiastically for the Gounod. Someone requested an encore during the Q&A, but sadly the performers had not had time to prepare one. The Hotel Rex did not have the usual wine bar set up for this performance, & it took longer than it should have to purchase a pre-show drink in the lounge. Just before the performance Ms. Sanikidze chatted briefly with
The Opera Tattler
& me, then excused herself, explaining, "We have to go kick some ass!"
§ Nadine Sierra, soprano
Tamara Sanikidze, piano
San Francisco Performances
Salon at the Rex
G.F. Handel: Lascia ch'io pianga from Rinaldo
R. Strauss: From Letze Blatter, Op. 10
Zueignung
Nichts
Die Nacht
Die Georgine
Allerseelen
S. Rachmaninov: Six Romances, Op. 38
In My Garden at Night
To Her
Daisies
The Rat Catcher
The Dream
A-oo
C. Gounod: Je veux vivre!
Dieu! quel frisson...Amour ranime mon courage
from Roméo et Juliette
Fred Silver: The Twelve Days After Christmas
Wednesday, December 12, 6:30pm
Hotel Rex