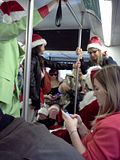 I made the mistake of taking the 19-Polk to my
afternoon destination
this past Saturday & so got a front-row seat for
SantaCon
, the modern revival of the yuletide tradition of misrule that once got Christmas banned in this country. Young people in Santa outfits, or simply in red apparel, prowled the sidewalks & lined up at bars all along Polk Street from Union Street to Geary. I saw a team of Santas pulling a large wooden sleigh with female riders down the street. A posse of wassailers rode the bus with us for several blocks. They were buzzed but well-behaved.
I rode BART to the East Bay in the evening, & there were Santas in every car, in various degrees of booziness. The official San Francisco SantaCon
Web page
clearly states "This is not a bar crawl" then lists about 50 participating clubs & bars.